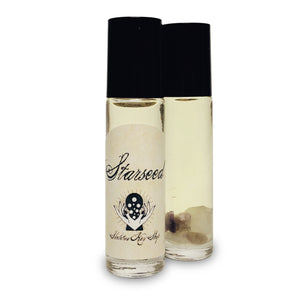 Starseed Roll-On Perfume Oil
Regular price $0.00 $20.00 Sale
Starseed Roll-on Perfume is scented in Black Plum, Lotus and Blackberry and Vanilla Lace, and infused with Amethyst and Rainbow Moonstone Crystals.
 Amethyst Crystal can aid in stilling the mind and inspiring an enhanced meditative state. Its inherent high frequency purifies the aura of any negative energy or attachment, and helps creates a protective shield of Light around the body. Amethyst stimulates the Third Eye, Crown and Etheric Chakras enhancing cognitive perception as well as accelerating the development of intuitive and psychic ability. It initiates wisdom and greater understanding of the world around us.
Rainbow Moonstone can raise our vibrational frequency to create a smoother transition into meditation. Used with the Third Eye and Crown chakras, it calms the physical mind from the chatter that can affect our meditative state. Rainbow Moonstone allows the Crown Chakra to open and bring in loving white healing energies that will flow through us to the very core of our being.