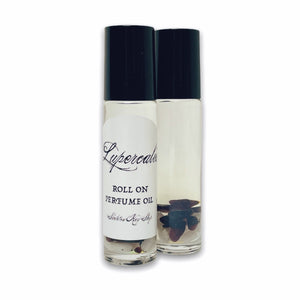 Lupercalia Roll On Perfume Oil
Regular price $0.00 $20.00 Sale
Lupercalia Roll-on Perfume oil is scented in a blend of Luscious Fig, Cashmere and Cream.
This formula was inspired by the "Milk" from the bark of the ancient Fig tree used to suckle the mythological Roman Twins Remus and Romulus, and the origins story of the Lupercalian Festivities in Rome.

 This Roll-On oil is infused with genuine Rainbow Moonstone and Garnet Crystals, both long associated with magic and protection.
Garnet Crystal represents the element of fire, personal power, protection from harm and resonates with the Root Chakra.
Rainbow Moonstone can aid in boosting intuition and lucid dreaming. this crystal resonates with Goddess Archetypes and Lunar energy, the Third Eye and Crown chakras.
Ingredients: Fragrance, Essential Oils, Fractionated Coconut Oil, Rainbow Moonstone and Garnet Crystals.