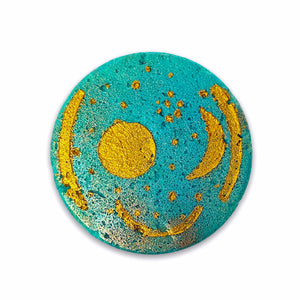 Sky Disk Bubble Bar
Our Sky Disk Bubble Bar is inspired by one of the oldest known depictions of the cosmos, the Nebra Sky Disk, once used as a clock, lunar calendar and map during the Bronze Age.
Sky Disk Bubble bar is scented in Moonlit Path and Grape Popsicles. 
 How to Use: Simply hold the bubble bar under warm running water for beautiful, moisturizing foamy bubbles! Bubble bars can also be chopped and added to a strainer alone or as part of your favorite bath cocktail and held under running water for the same effect.
Bubble Bars may make the tub bottom slippery so use caution upon exiting.
Ingredients: Sodium Bicarbonate, Citric Acid, SLSA, Cream of Tartar, Shea Butter, Cocoa Butter, Glycerin, Poly 80, Fragrance, Mica, Eco Glitter.