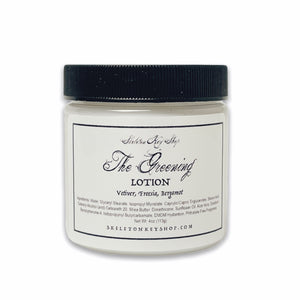 The Greening Lotion
Regular price $7.00 $7.00 Sale
Our "The Greening" Line is inspired by the seasonal awakening of the Earth and all of it's sustaining and nourishing plant life.
The Greening Shea Aloe Lotion is scented with fresh Vetiver, Bergamot and Freesia. 
Use The Greening to connect with the energies of Elemental Earth, for Recharging depleted energies, Grounding and Meditation.

MINERAL OIL, PHTHALATE, AND PARABEN FREE.

Ingredients: Water, Glyceryl Stearate, Isopropyl Myristate, Caprylic/Capric Triglycerides, Stearic Acid, Cetearyl Alcohol (and) Ceteareth 20, Shea Butter, Dimethicone, Sunflower Oil, Aloe Vera, Disodium Benzophenone-4, Iodopropynyl Butylcarbamate, DMDM Hydantoin, Phthalate Free Fragrance.