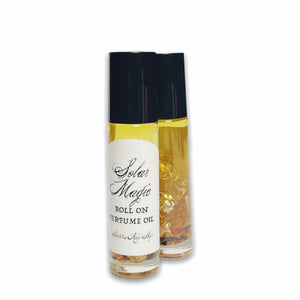 Solar Magic Roll On Perfume Oil
Regular price $0.00 $20.00 Sale
Solar Magic Roll-on Perfume is a blend of Sweet Orange, Lime and Cognac*Lush Celebrate Type* infused with genuine Sunstone and Amber Crystals with Gold Leaf.
 This Roll-On oil is designed to tap into the energy of the Sun, promoting vibrations of Success, Happiness and Vitality while helping to boost mood, physical energy, mental and physical health.This oil may also be used in workings for success, health, and prosperity.
Amber Crystal aids in drawing disease from the body, healing and renewing the nervous system and balancing the right and left parts of the brain. Amber clears depression, stimulates the intellect and promotes self-confidence and creative self-expression. It is associated with the energy of The Sun, The Solar Plexus and Sacral Chakras. 
 Sunstone Crystal  is known as a joyful stone, inspiring the nurturing of self in order to be of service to others. It restores the enjoyment of life, good nature and provides a sense of abundance, openness, benevolence and warmth, strength, mental clarity, and the willingness and ability to bestow these blessings upon others. 
Ingredients: Fragrance, Fractionated Coconut Oil, Sunstone and Amber Crystals, Gold Leaf.