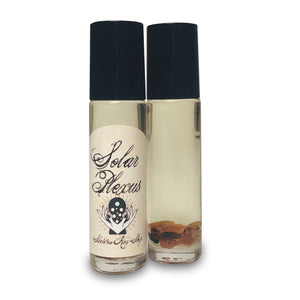 Solar Plexus Chakra Roll On Perfume Oil
Regular price $0.00 $20.00 Sale
Solar Plexus Roll-on Perfume is an uplifting blend of Honeysuckle, Lemongrass and Frankincense Essential Oil, infused with genuine Amber and Carnelian Crystals.
 This Roll-On oil is designed to activate the Solar Plexus Chakra, located right above our navel. This chakra is responsible for giving us confidence and creativity, balancing our adrenal systems such as the "Fight or Flight" reaction, and can aid with boosting energy levels and quelling anxiety. Infused with genuine Amber and Carnelian Crystals, this oil can also be used in addition to traditional treatments to help combat seasonal depressive disorders.
Amber Crystal aids in drawing disease from the body, healing and renewing the nervous system and balancing the right and left parts of the brain. Amber clears depression, stimulates the intellect and promotes self-confidence and creative self-expression. It is associated with the energy of The Sun, The Solar Plexus and Sacral Chakras. 
Carnelian Crystal is said to restore vitality and motivation while also stimulating creativity, and eliminating apathetic and lethargic feelings. Carnelian can also boost fertility and sexual desire. Carnelian is associated with the element of Fire and the Sacral and Root Chakras.
Ingredients: Fragrance, Fractionated Coconut Oil, Amber Crystal, Carnelian Crystal.