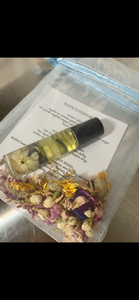 Custom Roll On Perfume Oil
Regular price $0.00 $25.00 Sale
Each Custom Roll-on Perfume is hand crafted after a brief email consultation to discuss your desired intention or scent profile.  
They can be infused with Crystal Allies, Herbs, Roots, Flowers, Resins and other Organic materials from our apothecary that align with your vision.
These make beautiful gifts for your magical besties, and best of all if you are already a fan of something in our SKS Scent Library, we can customize your favorite scent into a Roll- On perfume with any customizations you'd like. 
How to Order: After purchasing your Custom Roll- On Perfume, Simply send your Inquiry with order number to Natalie@skeletonkeyshop.com and we will begin designing your creation.
Ingredients: Fragrance, Fractionated Coconut Oil, Crystal.