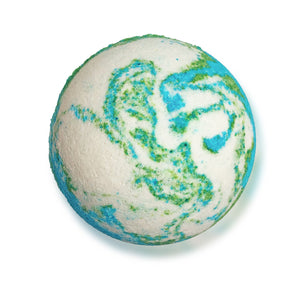 Earth Magic Bath Bomb
Regular price $0.00 $7.00 Sale
Earth Magic Bath Bomb look just like our beautiful home planet and is scented in light Honeysuckle, Watery Fruits and Ripe Fig.
Directions:

Fill bathtub with hot water and drop Bath bomb in!

The Bath bomb will begin to dissolve and create fizzing bubbles, while releasing skin softening oils and a delicious aroma and a shimmering Aqua blue tint to your bath. Bath Bombs will not tint your skin or tub. You should come out of your bath relaxed and refreshed, feeling silky soft and smelling
wonderful!

All of our products are made with love and magic, by hand, not machines. Please allow for slight variations in color or appearance. Oils in our Bath Bombs or Fizzies may make the tub slippery, please use caution when exiting the tub!!

Ingredients: Sodium Bicarbonate, Citric Acid, Cornstarch, Sweet Almond oil, Witch Hazel, Phthalate Free Fragrance, Poly 80, SLSA, Mica, White Kaolin Clay, FD&C Colorants, Eco Glitter.