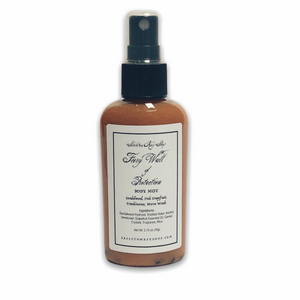 Fiery Wall of Protection Spray
Regular price $10.00 Sale
Fiery Wall of Protection spray, is made with Sandalwood Hydrosol and Grapefruit essential Oil, with notes of Frankincense and Warm Woods. The Gorgeous color comes from all natural Mica and each bottle contains genuine Garnet Crystal Chips.
Perfect for dazzling like The Sun while also repelling your haters. Shake to activate and disperse shimmer.
Ingredients: Sandalwood Hydrosol, Distilled Water, Alcohol Denatured, Grapefruit Essential Oil,Garnet Crystals, Fragrance, Mica.


About Hydrosols:
Hydrosols, also known as floral waters,or hydroflorates, are byproducts from steam distillation of plant materials. Made from the steam that rises during the cooking process during distillation, this liquid is then collected and used in the same way as an Essential oil, in situations where a much milder concentration is desired. These liquids contain the identical plant components and beneficial qualities as an essential oil, only they are more gentle and water-soluble, making them ideal for natural perfumes, cosmetics and cleansing products, as well as for many holistic remedies and medicinal uses, as some hydrosols may even be ingested sublingually. Listing is for a 2 oz portable size bottle.

***This product is intended for external use only.