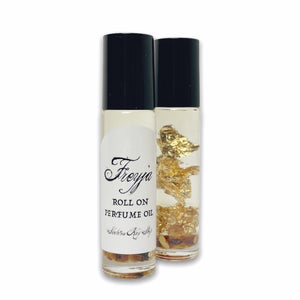 Freyja Roll On Perfume Oil
Regular price $0.00 $20.00 Sale
Sticky summer fruits, amber and honey. Freyja, Goddess of love and beauty, warrior and seeress! Use this oil to aid in journey, meditation and trance work, or in any working for love, body image, confidence, personal power and lust.

Freyja Roll-on Perfume is an intoxicating  blend of Jasmine Sambac Absolute, Strawberry, Musk and Golden Amber, with hints of Violet Leaf and Sandalwood. 
This Roll-On oil is infused with genuine Amber Crystal and Gold Leaf. Amber has long been associated with this Goddess, It is said that when she cries her tears turn to Amber or Gold. Both Amber and Gold are associated with the Sun and its revitalizing energy, representing the height of Summer and its delights. This oil corresponds with the Third Eye (for use in Trance), Solar Plexus, and Sacral Chakras (for use in Confidence boosting and Sensuality.
Ingredients: Fragrance, Fractionated Coconut Oil, Amber Crystal, Gold Leaf.