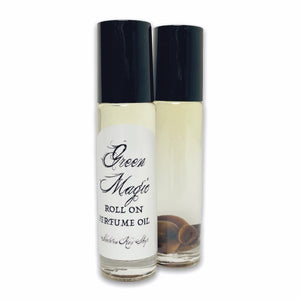 Green Magic Roll On Perfume Oil
Regular price $0.00 $20.00 Sale
Green Magic Roll-on Perfume is a fresh blend of Avocado, Grass, and Jungle Woods *Lush Avobath, Jungle, Weather Turning Types Blend*
Invite Prosperity and connect with the energy of the Earth with this woodsy and green blend sparkling with hints of Citrus and Lemongrass.
This Roll-On oil is infused with genuine Tigers Eye Crystal to help release Fear and Anxiety, promote feelings of Confidence, and invite vibrations of Prosperity and Good Fortune. Tiger's Eye resonates with the Solar Plexus Chakra, and is also known to protect the owner from envy and the "Evil Eye".
Ingredients: Fragrance, Fractionated Coconut Oil, Tiger's Eye Crystal.