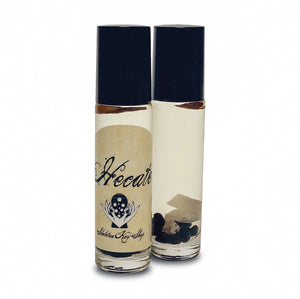 Hecate Roll On Perfume Oil
Regular price $0.00 $20.00 Sale
Hecate Roll-on Perfume is a warm, Intoxicating blend of Resins and Woods, balanced with a touch of Cypress and Lavender.
This oil is also infused with Dragon's blood and Yew bark for added potency.
Hecate, Goddess of the crossroads and ancient mother of all witches. Use this oil for protection against harm and for clearing all obstacles in your path. May also be used as a Dark Moon devotion oil or prior to all acts of witchcraft and conjuring.

About:
This Roll-On oil is infused with genuine Garnet and Rainbow Moonstone Crystals. 
Garnet represents the element of fire, personal power, protection from harm and resonates with the Root Chakra. 
Rainbow Moonstone can aid in boosting intuition and lucid dreaming. this crystal resonates with Goddess Archetypes and Lunar energy, the Third Eye and Crown chakras.
 Ingredients: Fragrance, Fractionated Coconut Oil, Rainbow Moonstone and Garnet Crystal.