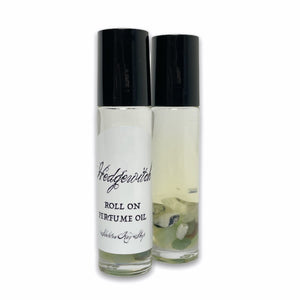 Hedgewitch Roll On Perfume Oil
Regular price $0.00 $20.00 Sale
Hedgewitch Roll-on Perfume smells just like moonlit walk through a Witch's Greenhouse with Night Blooming White florals and is infused with Genuine Jade and Rainbow Moonstone Crystals.
 Jade Crystal helps promote feelings of Calm, Enhance Dreams, and promote Trust and Fidelity. Jade resonates with the Heart Chakra, and is also known to protect against illness.
Rainbow Moonstone can aid in boosting intuition and lucid dreaming. this crystal resonates with Goddess Archetypes and Lunar energy, the Third Eye and Crown chakras.
Ingredients: Fragrance, Fractionated Coconut Oil, Jade Crystal, Rainbow Moonstone Crystal.