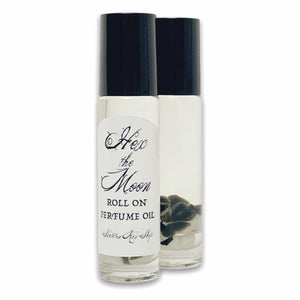 Hex The Moon Roll On Perfume Oil
Regular price $0.00 $20.00 Sale
Hex the Moon Roll On Perfume is scented in a classic Lunar blend of Moonflowers and Precious Sandalwood.
Use the Hex the Moon line to connect with Lunar energies, emotional healing and the element of Water, and to help boost Intuition. This makes a perfect ritual bath prior to Divination, Full and New Moon Rituals, Lucid Dream and Astral Projection work.
This Roll-On oil is infused with genuine Rainbow Moonstone and Black Tourmaline Crystals.
Rainbow Moonstone can aid in boosting intuition and lucid dreaming. this crystal resonates with Goddess Archetypes and Lunar energy, the Third Eye and Crown chakras.

 Black Tourmaline is a protective stone which repels negative energies and blocks psychic attack. Black Tourmaline also aids in grounding and balancing the energetic body.
Ingredients: Fragrance, Fractionated Coconut Oil, Rainbow Moonstone and Black Tourmaline Crystal.