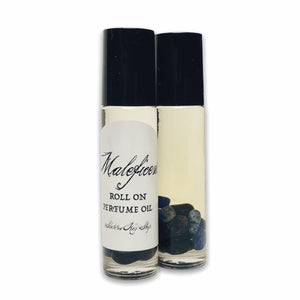 Maleficent Roll On Perfume Oil
Regular price $20.00 Sale
Maleficent Roll-on Perfume is a heady blend of Amber, Sandalwood, Cedar, and Vanilla and Tonka Bean. Spellbound Woods & *Vanillary Blend (Lush Type)
Connect with the energy of the OG Dark Fairy and her Dragon familiar with this woodsy and magical blend. 
This Roll-On oil is infused with genuine Garnet and Lapis Lazuli crystals, both long associated with magic and protection. Garnet is a stone that represents the element of fire, personal power, protection from harm and resonates with the Root Chakra. Lapis Lazuli is the classic sorcerers stone, having great psychic and transformative powers. Lapis is known for enhancing intuitive abilities, inspiring honesty in conversations when used by the wearer, protection from the "Evil Eye" and is associated with the Throat and Third Eye Chakras.
Ingredients: Fragrance, Fractionated Coconut Oil, Garnet Crystal Lapis Lazuli Crystal.