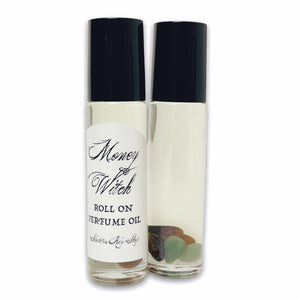 Money Witch Roll On Perfume Oil
Regular price $0.00 $20.00 Sale
Our Money Witch Line is inspired by classic Botanica recipes for Abundance and Wealth such as "9 Indian Fruits" and " Double Fast Luck" and is a throwback to my early years working in them as a a Tarot Reader.
Money Witch is scented with a blend of Spiced Coconut Rum, Golden Apricot and Praline, and infused with genuine Tiger's Eye and Aventurine Crystals.
Tiger's Eye is used to help release Fear and Anxiety, promote feelings of Confidence, and invite vibrations of Prosperity and Good Fortune. Tiger's Eye resonates with the Solar Plexus Chakra, and is also known to protect the owner from envy and the "Evil Eye".

 Aventurine Crystal is used to invite in the energies of Wealth, Good Fortune, Abundance and Optimism. Soothing and Calming, this crystal Resonates with the Heart Chakra.
 This Roll-On oil is designed to help tap into the endless currents of Prosperity at work in the Universe and help invite them into your life. Many times we need to first be open to believing that we are worthy to receive. Surround yourself with the intention of Abundance and allow it to manifest! This oil can be used anytime you need to magnetize your Aura and get noticed, at work to attract new projects or opportunities, and for any Rituals or Spell work to attract Prosperity, Success and Employment.
 Amber Crystal aids in drawing disease from the body, healing and renewing the nervous system and balancing the right and left parts of the brain. Amber clears depression, stimulates the intellect and promotes self-confidence and creative self-expression. It is associated with the energy of The Sun, The Solar Plexus and Sacral Chakras. 
Jade Crystal is used to symbolize wealth and attract good fortune, to help promote feelings of Calm, to Enhance Dreams, and promote Trust and Fidelity. Jade resonates with the Heart Chakra, and is also known to protect against illness.
 Ingredients: Fragrance, Fractionated Coconut Oil, Tiger's Eye Crystal, Aventurine Crystal.