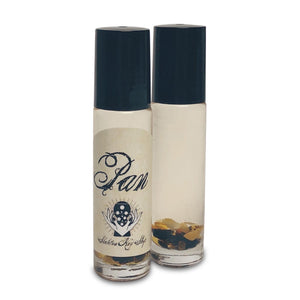 Pan Roll On Perfume Oil
Regular price $0.00 $20.00 Sale
Pan Roll-on Perfume oil is a delicious blend of Earthy patchouli, Musk, and Wet Forest woods... Pan, Goat-foot God of nature, the wild, and sacred sexuality. Use this Oil to invite the energies of fertility, potency, and attraction.
 This Roll-On oil is infused with genuine Black Tourmaline and Amber Crystals.
Black Tourmaline is a protective stone which repels negative energies and blocks psychic attack. Black Tourmaline also aids in grounding and balancing the energetic body.
Amber Crystal aids in drawing disease from the body, healing and renewing the nervous system and balancing the right and left parts of the brain. Amber clears depression, stimulates the intellect and promotes self-confidence and creative self-expression. It is associated with the energy of The Sun, The Solar Plexus and Sacral Chakras. 
Ingredients: Fragrance, Essential Oils, Fractionated Coconut Oil, Black Tourmaline and Amber Crystals.