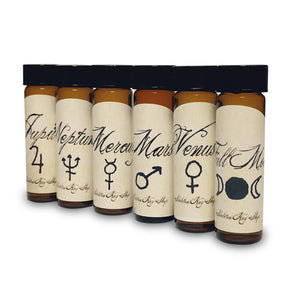 Planetary Oil Collection
Regular price $10.00 $10.00 Sale
These oils were first created exclusively for 2018's Broadly Astrology Conference, and now their magic is available to you! They were formulated using traditional Planetary correspondences, with lots of Love and Magic! 
These can be used anytime you wish to further connect with a Planet's energy, worn as a personal scent, and in your Ritual work. 
Jupiter: Sandalwood, Anise, Clove, Almond, Rosewood essential oil.
Neptune: Ambergris (Fragrance), Lotus, Cucumber.
Mercury: Lavender, Bayberry, Spearmint, Valerian, and Star Anise essential oils.
Mars: Dragons Blood resin, Wormwood, Basil, Ginger, Cinnamon Leaf essential oil.
Venus: Rose, Orris, Lilac, Hibiscus, Magnolia, and Musk.
Full Moon: Sandalwood, Rose, Lemon, Jasmine, and White musk.