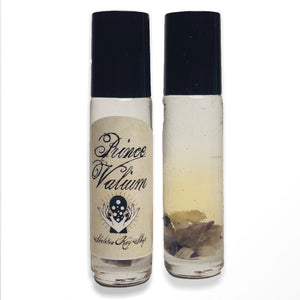 Prince Valium Roll On Perfume Oil
Regular price $0.00 $20.00 Sale
Prince Valium Roll-on Perfume is the perfect relaxation blend, scented with Lavender Essential Oil, Black Amber and Tonka Bean.  
This Roll-On oil is infused with genuine Moonstone and Amethyst crystals. Amethyst Crystal can aid in stilling the mind and inspiring an enhanced meditative state. Its inherent high frequency purifies the aura of any negative energy or attachment, and helps creates a protective shield of Light around the body. Rainbow Moonstone can raise our vibrational frequency to create a smoother transition into meditation. Used with the Third Eye and Crown chakras, it calms the physical mind from the chatter that can affect our meditative state. 
Ingredients: Fragrance, Lavender EO,Fractionated Coconut Oil, Moonstone Crystal, Amethyst Crystal.