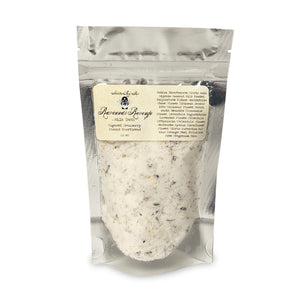 Ravenna's Revenge Milk Bath
 One of the most iconic moments in Snow White and the Huntsman is Ravenna's Milk Bath. Bathing with milk and flowers is something dear to my heart and used in many Goddess based Rituals, as well as Workings for Peace and Healing.
This is a VEGAN Coconut Milk based bath with Dead Sea Salt, that is infused with beautiful botanicals such as Rose, Lavender, Orange and Chamomile. This bath is packed with 💎OPALESCENT 💎white shimmer and scented with Sugared Cranberry and Almond Shortbread. 
Ingredients: Sodium Bicarbonate, Citric Acid, Organic Coconut Milk Powder, Polysorbate 80,Rosa Centifolia (Rose) Flower, Hibiscus Sabdariffa (Hibiscus) Flower, Matricaria Recutita (Chamomile) Flower, Lavandula Angustifolia (Lavender) Flower, Calendula Officinalis (Calendula) Flower, Centaurea cyanus (Cornflower) Flower, Citrus Aurantium Dulcis (Orange) Peel, Phthalate Free Fragrance, Mica.