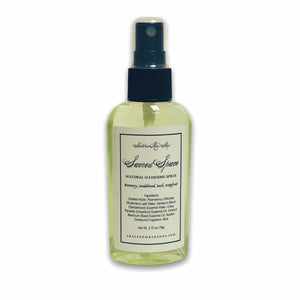 Sacred Space Natural Cleansing Spray
Regular price $10.00 Sale
Sacred Space Cleansing Spray is a crisp fresh blend, made from all- natural hydrosols of rosemary and sandalwood, with essential oils of basil and grapefruit. This blend is something that has a funny nickname of"BS B Gone" in my inner circle. Use Sacred Space to cleanse prior to meditation or spiritual work ,to discreetly diffuse negative energy buildup in the workplace or home, and for a  quick boost of energy. Non staining, it can also be used on linens and clothing. Listing is for one 2 oz portable size bottle.

Ingredients: Distilled Water, Rosmarinus Officinale (Rosemary) Leaf Water, Santalum Album (Sandalwood) Essential Water, Citrus Paradisii (Grapefruit) Essential Oil, Ocimum Basilicum (Basil) Essential Oil, Alcohol Denatured,Fragrance, Mica.



About Hydrosols:

Hydrosols, also known as floral waters, or hydroflorates, are byproducts made from the steam distillation of plant materials. Made from the steam that rises during the cooking process during distillation, this liquid is then collected and used in the same way as an Essential oil, in situations where a much milder concentration is desired. These liquids contain the identical plant components and beneficial qualities as an essential oil, only they are more gentle and water-soluble, making them ideal for natural perfumes, cosmetics and cleansing products, as well as for many holistic remedies and medicinal uses.

**This product is intended for external use only.