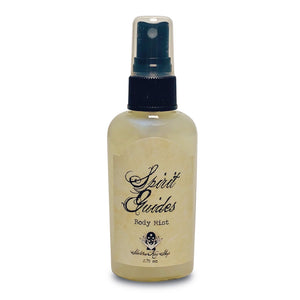 Spirit Guides Floral Water
Regular price $10.00 Sale
This sweet and refreshing floral water is made with all natural Hydrosol of Rose, with Essential oil of Rose and Tuberose. Use this high vibration blend to connect with your spirit guides and ancestors through meditation and prayer, to invoke divine aid and guidance prior to divination and healing work.

Ingredients: Distilled Water, Rosa Damascena (Rose) Flower Water, Polianthes Tuberosa ( Tuberose) Essential Oil, Rosa Damascena ( Rose) Essential Oil.


About Hydrosols:
Hydrosols, also known as floral waters,or hydroflorates, are byproducts from steam distillation of plant materials. Made from the steam that rises during the cooking process during distillation, this liquid is then collected and used in the same way as an Essential oil, in situations where a much milder concentration is desired. These liquids contain the identical plant components and beneficial qualities as an essential oil, only they are more gentle and water-soluble, making them ideal for natural perfumes, cosmetics and cleansing products, as well as for many holistic remedies and medicinal uses, as some hydrosols may even be ingested sublingually. Listing is for a 2 oz portable size bottle.

***This product is intended for external use only.