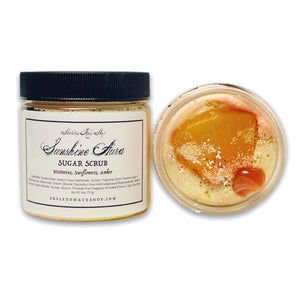 Sunshine Aura Whipped Sugar Scrub
Sunshine Aura Sugar Scrub is inspired by a warm day basking in the Summer Sun, and is scented in fresh Nectarine, Sunflowers and Amber.

This juicy scrub is topped with a Banded Carnelian Crystal, shimmering gold eco-glitter, and a mini crystal soap in the matching scent!
 Use Sunshine Aura to connect with the mood boosting Solar energies of Joy, Health, Success and Vitality. 
Banded Carnelian Crystal is said to restore vitality and motivation while also stimulating creativity, and eliminating apathetic and lethargic feelings.
Carnelian is also used to boost fertility and increase sexual desire. Carnelian is associated with the element of Fire and the Sacral and Root Chakras.
Ingredients: Glycerin,Water, Sodium Cocoyl Isethionate, Sorbitol, Propylene Glycol, Disodium Lauryl Sulfosuccinate, Stearic Acid, Sodium Chloride, Diazolidinyl Urea (and) Iodopropynyl Butylcarbamate, Sodium Cocoate, Sodium Stearate, Sucrose, Glycerin, Phthalate Free Fragrance, Mica.