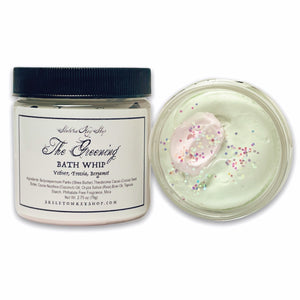 The Greening Bath Whip
Our "The Greening" Line is inspired by the seasonal awakening of the Earth and all of it's sustaining and nourishing plant life.
The Greening Bath Whip is scented with fresh Vetiver, Bergamot and Freesia. 
Use The Greening to connect with the energies of Elemental Earth, for Recharging depleted energies, Grounding and Meditation.
 Thick, Creamy and Moisturizing, our Bath Whips can also be used as a shaving foam.
Ingredients: Glycerin, Water, Sodium Cocoyl Isethionate, Sorbitol, Propylene Glycol, Disodium Lauryl Sulfosuccinate, Stearic Acid, Sodium Chloride, Diazolidinyl Urea, Iodopropynyl Butylcarbamate, Cocos Nucifera (Coconut) Oil,Phthalate Free Fragrance, Mica.