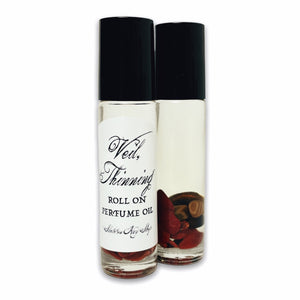 Veil Thinning Roll On Perfume Oil
Regular price $0.00 $20.00 Sale
Veil, Thinning Body wash is scented in delicious Mahogany Woods, Spiced Pumpkin Cream and Autumn Leaves.
This Roll-On oil is infused with genuine Red Jasper and Tiger's Eye Crystals. 
Red Jasper resonates with the Sacral and Root Chakras, is associated with Luck, Confidence and Sexual Energy, and is also commonly used as a Protective stone. 
Tigers Eye Crystal  is used to help release Fear and Anxiety, promote feelings of Confidence, and invite vibrations of Prosperity and Good Fortune. Tiger's Eye resonates with the Solar Plexus Chakra, and is also known to protect the owner from envy and the "Evil Eye".
Ingredients: Fragrance, Fractionated Coconut Oil, Red Jasper Crystal, Tiger's Eye Crystal.