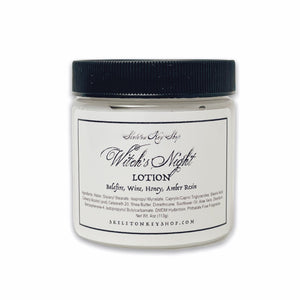 Witch's Night Lotion
Our Witch's Night Line is inspired by the pagan fire festival Walpurgis Night or Walpurgisnacht, celebrated on April 30th.

Witch's Night Shea Aloe Lotion is scented in a sexy blend of SKS Balefire, Wine, Honey and Amber Resin.
Use Witch's Night to connect with Body Positive and Sensual energies, Creativity, Personal Power, Elemental Earth & Fire, and The Sacral and Root chakras.

MINERAL OIL, PHTHALATE, AND PARABEN FREE.

Ingredients: Water, Glyceryl Stearate, Isopropyl Myristate, Caprylic/Capric Triglycerides, Stearic Acid, Cetearyl Alcohol (and) Ceteareth 20, Shea Butter, Dimethicone, Sunflower Oil, Aloe Vera, Disodium Benzophenone-4, Iodopropynyl Butylcarbamate, DMDM Hydantoin, Phthalate Free Fragrance.