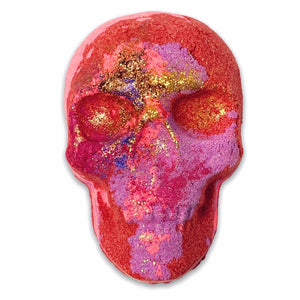 Witch's Night Skull Bath Bomb
Our Witch's Night Skull Bomb is inspired by the pagan fire festival Walpurgis Night or Walpurgisnacht, celebrated on April 30th.

Witch's Night Skull Bath Bomb is scented in a sexy blend of SKS Balefire, Wine, Honey and Amber Resin.
Use Witch's Night to connect with Body Positive and Sensual energies, Creativity, Personal Power, Elemental Earth & Fire, and The Sacral and Root chakras.
.
Directions: 

Fill bathtub with hot water and drop Bath bomb in!

The Bath bomb will begin to dissolve and create fizzing foam and bubbles while releasing skin softening oils and a delicious aroma, color show and shimmering Strawberry Red tint to your bath. Bath Bombs will not tint your skin or tub. You should come out of your bath relaxed and refreshed, feeling silky soft and smelling wonderful!

All of our products are made with love and magic, by hand, not machines. Please allow for slight variations in color or appearance. Oils in our Bath Bombs or Fizzies may make the tub slippery, please use caution when exiting the tub!!


Ingredients: Sodium Bicarbonate, Citric Acid, Cornstarch, Sweet Almond oil, Witch Hazel, Phthalate Free Fragrance, Poly 80, SLSA, Mica, White Kaolin Clay, FD&C Colorant, Eco-Glitter.